For Worldwide Release: March 22, 2021
Perkins Engines Company Limited has entered into an agreement appointing Pathfinder Power Solutions (Pathfinder) as the authorized Perkins distributor for the Southeast region of the United States.
"We are delighted to add the decades of experience and knowledge that the Pathfinder Power Solutions team brings to the North American rental and industrial industries," said Jaz Gill, Vice President of global sales, marketing, service and parts at Perkins. "They know the market intimately and will be an outstanding addition to our strong line-up of distributors. We are excited to welcome them to the Perkins organization."
Trey Googe, Pathfinder President and CEO, stated, "Perkins Engine's commitment to their customers is in line with our core values and capabilities. This partnership is a natural fit for us. We're eager to build on the organization's success with the launch of our new distributorship."
Billy Holley, SVP of Pathfinder, added, "Engines are the heart of any piece of equipment and their increasing complexity demands a higher degree of support. We look forward to utilizing our team's experience and service focus to jointly develop solutions with customers that solve the complex problems they face daily."
Based in the Greater Atlanta area, Pathfinder has the vision to provide outstanding customer service throughout the states they serve. Additionally, future customer service locations have been identified and will be communicated in more detail as business operations continue to evolve.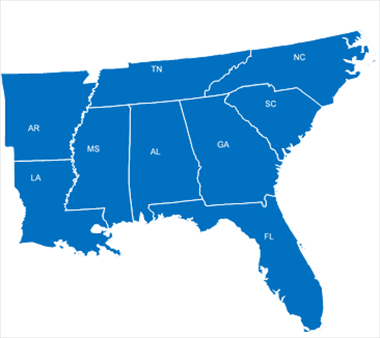 Offering complete sales, engineering, support, parts and service to those in the Southeast region, Pathfinder is well-poised to support customers in:
Alabama
Arkansas
Florida
Georgia
Louisiana
Mississippi
North Carolina
South Carolina
Tennessee
Customers in these states who are interested in contacting Pathfinder Power Solutions can do so via:
Website: pathfinderpower.com
Phone:+1 (888) 403-8407
Sales: Jason Miller Parts & Services: Stephanie Mathews Billing & Credit: Kim Parker
-END-
About Perkins: A world-leading supplier of off-highway diesel engines in the 4-2000 kW (5-2800 hp) market, Perkins has more than 85 years' experience of designing, building and servicing industrial power solutions. By working in collaboration with over 800 original equipment manufacturers in the agricultural, construction, electric power generation, industrial and materials handling markets, we tailor our engines to meet their needs and exacting standards. With eight state-of-the-art manufacturing facilities, we ensure all our engines meet the same quality standards in every location. Supported by a global distribution network and digital aftermarket solutions, we work to deliver power and service to serve our customers. With more than 21 million engines manufactured powering over 5,000 different applications across the world, our engines truly are the heart of every great machine.
Press Inquiries
About Pathfinder Power Solutions
Headquartered in Austell, GA, Pathfinder Power Solutions is family-owned and operated. Backed by over 100 years of customer service in the industrial and construction industries, Pathfinder provides customized product, parts, and service solutions for their diverse customer base. The Pathfinder team of committed employees strives to deliver unmatched customer service through multiple locations in nine states.
The information provided herein is true as of the date of this release but could change due to subsequent developments. Perkins has no obligation to update the information.
Produced in England ©Perkins Engines Company Limited 2021